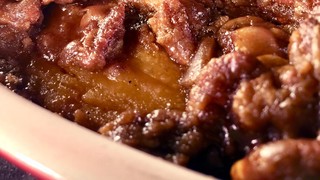 Sweet Potato Casserole brought to a whole new level!
ingredients
PRALINE TOPPING:
2 1/2 cups pecan halves and pieces
4 tablespoons unsalted butter
2 cups dark brown sugar
1/4 cup granulated sugar
1/4 cup bourbon
1 cup heavy cream
2 teaspoons vanilla extract
flaky sea salt (to taste)
SWEET POTATO CASSEROLE:
6 tablespoons unsalted butter (plus additional for greasing)
1 1/2 pounds russet potatoes (peeled, large dice)
1 1/2 pounds sweet potatoes (peeled, large dice)
1 small bundle fresh thyme (tied with Butcher's twine)
3 cloves garlic (peeled, smashed)
1/2 cup evaporated milk
2/3 cup mascarpone cheese
2 1/2 teaspoons freshly grated nutmeg
2 large eggs (beaten)
Kosher salt and freshly ground black pepper (to taste)
Butcher's twine
directions
Preheat your oven to 350ºF.
For the Praline: On a baking sheet place the pecans and toast in the oven for 8-10 minutes until light golden brown and crisp, stirring halfway through. Allow to cool.
In a Dutch oven, add the butter, brown sugar, sugar, bourbon, cream and a pinch of sea salt and bring to a boil. Boil, stirring occasionally until a candy thermometer reaches 240ºF. Remove the sugar mixture from the heat and allow to cool for 4 minutes. Stir in the pecans and vanilla and stir continuously for another 2 minutes, until the mixture thickens and loses its gloss.
Using 2 spoons, scoop the mixture onto a silpat or parchment-lined baking sheet and gently press out/flatten with your hands into cookies. Sprinkle with flaky sea salt (you should have about 14 cookies). Allow to stand until firm, about 45 minutes. Place in the freezer.
For the Sweet Potato Casserole:
Increase the oven temperature to 375ºF. Grease a large gratin dish with butter.
In a large pot of salted water, add the Russet and sweet potatoes, thyme and garlic. Bring to a boil and cook until tender, about 20 minutes. Drain well and discard the thyme and garlic. Rice the potatoes over the pot and place the pot over low heat. Allow the potatoes to dry out before you begin adding additional ingredients.
Add the butter, mascarpone, and evaporated milk. Stir to combine, being careful not to overwork. Season well with salt, pepper and nutmeg. Whisk in the eggs. Spread evenly into the buttered gratin dish and break up the frozen praline cookies into small pieces, resembling a crumble over the top. Bake for 30 minutes, until light golden brown on top and puffed. Remove from the oven and allow to cool slightly.
Tip: Make the base of the sweet potato casserole and freeze until the day of Thanksgiving. Make the praline a day in advance and top to enjoy!